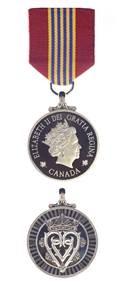 Campbell, we have HUGE news to celebrate:
Carol Bachynski has been awarded the Sovereigns Medal for Volunteers by the Governor General of Canada.
Her volunteerism includes work with 100 Women Who Care, Dress for Success, and numerous other organizations!  We know how awesome Carol is…but now all of Canada will know, too.  Please take a minute to go and congratulate her.

Passion, dedication and a commitment to community are the driving forces behind the volunteers who receive the Sovereign's Medal for Volunteers.  The medal recognizes the exceptional volunteer achievements of Canadians from across the country in a wide range of fields and pays tribute to the dedication and commitment of volunteers. They embody the caring country we aspire to build.

She will receive the official medal at Government House in the near future.  More info on the award:  https://www.gg.ca/en/honours/canadian-honours/sovereigns-medal-volunteers