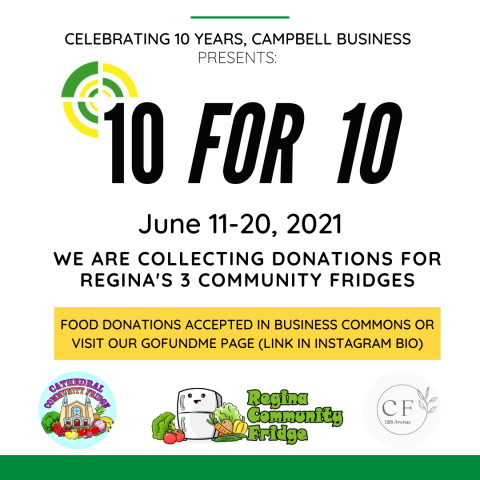 Campbell Business Club is celebrating our 10th Anniversary!  
To say thank you for 10 years of support & generosity from the community .....the Club will give back to the community! 
To celebrate 10 years, the Club will spend 10 days fundraising and supporting a local charity.  The Regina Community Fridge is a mutual aid organization seeking to provide a solution to food insecurity right here in Regina.  Unfortunately, many people lack access to affordable and healthy food so the Fridge provides free food to those in need with the help of volunteers in the community.  Their motto is "Take what you need, give what you can
Help us support the Regina Community Fridges by either donating food (which will be collected in the Campbell Business Commons) or by donating to our GoFundMe page https://gofund.me/a6982103.  Club members will use 100% of the donations to buy food to stock the 3 community fridges in Regina. The 10 days run from June 11th - 20th.
Campbell Business Club
Create. Communicate. Collaborate.